Atwima Kwanwoma Rural Bank posts 40 percent profit despite Covid-19 challenges
The Atwima Kwanwoma Rural Bank has posted a 40 percent profit after tax for the 2020 financial year, despite the impact of the covid-19 on businesses.
The Bank grew its profit from 3,031, 095 cedis in 2019 to 3,841,061 cedis at the end of the 2020. This represents an increase rate of 26.72 percent.
CEO, Dr Sarfo Kantanka says the bank's strategic plans show a more impressive performance by the end of 2021.
Deposits at the Atwima Kwanwoma Rural Bank in the 2020 financial year increased by 40.1 percent from the 2019 figure.
It stood at 205,389,993 Ghana cedis as against 146,582,226 Ghana cedis in the previous year.
Atwima Kwanwoma Rural Bank inaugurates Bantama branch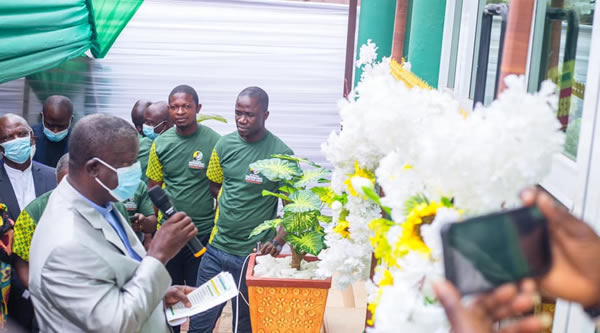 Atwima Kwanwoma Rural Bank Limited at Pakyi No 2 in the Ashanti Region has inaugurated its Bantama branch in the heart of the Race Course Market, as part of its branch expansion drive for the foreseeable operational year.
The Bantama branch-opening now brings to ten the total number of branches currently being operated by the bank, spread across various communities and towns in the region.
The Chairman of the Board of Directors, Mr. Patrick Owusu, while enumerating some of the major steps taken to boost profitability for the bank was hopeful that the new branch will further improve operational performance. According to the Board Chairman, siting the tenth branch at Bantama fulfils the bank's long cherished dream of providing enviable banking services to the people of Bantama and its adjoining communities.
Atwima Kwanwoma Rural Bank Ltd launches Bancassurance
Atwima Kwanwoma Rural Bank Ltd in partnership with StarLife Assurance launched Bancassurance and unveiled four (4) products for the benefit of its customers and the general public. They are HomeCall Plan, the Child Education, the WealthMaster Plans and the Ultimate Protection Plan. Atwima Kwanwoma Rural Bank Ltd and StarLife have been in collaboration since 2020, with the aim of promoting solid life for customers and a strong financial backbone through savings and insurance products.

The Board Chairman of Atwima Kwanwoma Rural Bank Ltd, Mr Patrick Owusu said, the bank is well placed to provide such need-based solutions and thus, through wealth creation for customers. All bancassurance can be subscribe at any of our branches.

Mr Alexander Twumasi, Relationship Manager for Starlife said "As a leading Life insurance company offering a wide range of need based life solutions, and not just products, StarLife has over the years delivered value-added services to its cherished clients, making it one of the preferred Life Insurance companies in Ghana." He stated
The HomeCall Plan which started started years ago aims at insuring spouses, parents, children and parent in-law till death.
Atwima Kwanwoma Rural Bank: exhibiting resilience in a pandemic
Atwima Kwanwoma Rural Bank (AKRB), established on 6th September 1983 and located at Pakyi No. 2 off the Kumasi Obuasi road has become a household name in the Rural Banking Industry because of its outstanding performance. Currently, with ten branches and counting, it is described as the best performing rural bank in Ghana. This can be attributed to a host of factors such as operational efficiency, prudent management, selfless and competent staff and good corporate governance among others.
Financially, AKRB has been consistent with its performance. The total assets of the bank as at the end of the financial year 2019 stood at GH¢188,723,038.00 while that of 2018 was GH¢159,673,337.00 showing an increase of 18.19%. Total deposit also grew from GH¢121,016,757.00 in 2018 to GH¢146,582,226.00 in 2019 representing a growth rate of 21.13%. Loans and overdraft also saw a growth rate of 11.51% from GH¢31,314.866.00 in 2018 to GH¢34,919,716.00 in 2019. Shareholder's Funds recorded as at the close of 2019 was GH¢37,575,423.00 while 2018 recorded GH¢35,029,346.00 at an increasing rate of 7.27%.
AKRB supports Ghana Police Service
The Ghana Police Service plays a significant role in ensuring that we go about our duties safely without looking over our shoulders. Therefore, we all need to support them in various ways for effective policing duties. To this end, last Saturday Atwima Kwanwoma Rural Bank Ltd donated 2 Office Cabinet, 1 Laptop, and 2 Sets of Office Desk to Ghana Police Service at Pakyi No. 2. We plead with all Ghanaians to volunteer timely information to aid the work of the Ghana Police Service to enable them to fight crime effectively.

#GhanaPoliceService
#CIMGRuralBankoftheyear
#MostProfitableRuralBank
#PacessettersinRuralBanking


COVID-19 RELIEF: Atwima Kwanwoma Rural Bank offers credit relief packages to cushion clients
Atwima Kwanwoma Rural Bank Limited at Pakyi No2 in the Ashanti Region has designed some credit relief packages for clients to cushion them in coping with effects of the COVID-19 pandemic. The offers include tenor extensions and deferment on eligible loans for clients in vulnerable sectors highly impacted by the pandemic; particularly Susu loans, SMEs (Loans and Overdrafts) and Clearance loans.

These relief interventions have become necessary because of the trickle-down effect of COVID-19 on rural banks and the banking sector in general.

The bank has given special consideration of three months' moratorium to private school teachers, salary workers of private institutions, and churches that have taken loans for their development projects.
Kronum Branch Opens
The Atwima Kwanwoma Rural Bank Limited has officially opened a new branch at Kronum a suburb of the Kumasi city in the Ashanti Region. The branch aims at providing banking services to the people of communities like Kodie, Dwenease, Afrancho, Buoho and other surrounding communities.
Speaking at the ceremony, the Chairman of the Board of Directors (BOD) Mr Patrick Owusu in his address stated that the newly opened branch started operating about 6 months ago and it has been able open accounts for 2,712 customers amid its official opening.
Atwima Kwanwoma Rural Bank Awarded Gold
Atwima Kwanwoma Rural Bank Limited was established in 1983 as the 68th Rural Bank to be licensed by the Bank of Ghana to offer banking services to the Rural and Sub-Urban Communities at Pakyi No. 2 in the Amansie-West District of the Ashanti Region.
The bank which began humbly from rented premises had focused, among others, on the provision of financial intermediations, inculcation of saving habit among the rural folks and the provision of community infrastructure.
Atwima Kwanwoma Rural Bank Pay Dividends Despite Slump In Profits
Shareholders of Atwima Kwanwoma Rural Bank will earn dividend of ten pesewas per share, one pesewa more than last year, despite a 14 per cent slump in profits. The bank's profit after tax went down from 6, 942, 000 in 2016 to 5, 946 000 in 2017 on the back of 11 profit before tax drop over the same period. But despite the slump, the bank is dispensing a whopping 1 million Ghana cedis as dividends to its shareholders.
Officials blame the drop in profit on an increase in Corporate Tax from 8 to 25 percent and dwindling investment rates. Board Chairman, Patrick Owusu tells Nhyira FM the bank has had to pay dearly for the increased taxes.